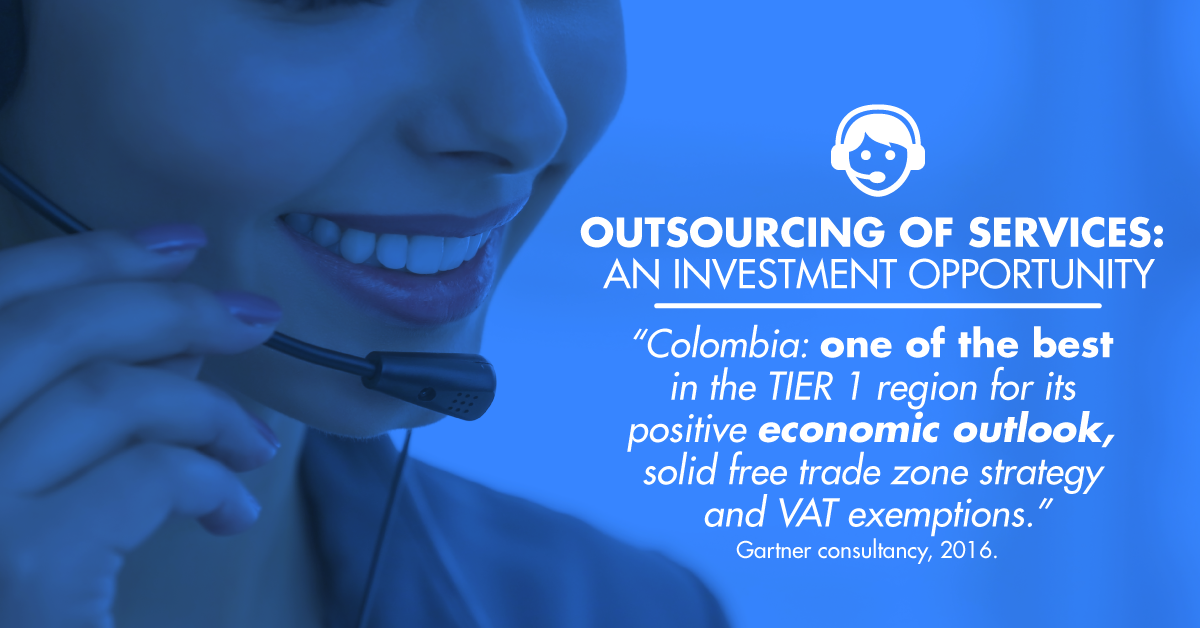 Did you know that the outsourcing of services is an investment opportunity in Colombia?
Outsourcing Services in Colombia
Outsourcing is a common practice in the world of business and Colombia has high potential for one reason: there is a wide range of companies that offer BPO services, offshore, nearshore, KPO and shared services and these have emerged as investment opportunities in Colombia for international companies that seek a competitive labor force and recognize the country's strategic geographic positioning when it comes to providing services within the region and across the world, alongside the other ideal foreign investment opportunities the country offers. 
Foreign companies are securing their investment strategies in Colombia, as ratified by the Gartner consultancy that in 2016 named Colombia as one of the best in the TIER 1 region for its positive economic outlook, solid free trade zone strategy and VAT exemptions for companies that export services, which are all favorable characteristics for investors.
The Business Process Outsourcing (BPO) sector has doubled the sale of services to foreign companies since 2005, because Colombia has the ideal infrastructure for exporting sales, customer service, e-commerce, technical support and back-office services: an infrastructure comprising five submarine cables and a 550GB connection, competitive prices and the ideal positioning in the middle of five time zones. The sector achieved US$1.976m in sales in 2015 according to the Colombian Association of BPO and Contact Centers, and created 189,000 new jobs. See more figures relating to Colombia's outsourcing services here.
Outsourcing, one of the best investments
Call center services, in Spanish, represented 62.41% of the outsourcing sector in 2015, followed by telemarketing, billing and collection services. This is one of the best investments foreign companies can make because not only does it bring the benefit of skilled Colombian labor and the highest standards of work, but a contribution to the growth of the national economy too.
One example is Sutherland, one of the world's largest BPO companies, which opened in Bogotá at the end of 2016 the fourth center specialized in business services, and high technology engineering, for handling operations in the United States, Canada and some Latin American countries. Sutherland has made one of the most relevant foreign investments in the sector, already amounting to more than US$10m and the creation of more than 2,000 jobs to meet the needs of multinationals including McAfee, Spotify, Google and AT&T. Read more on this successful case of investment in Colombia here.
If you seek investment ideas and or you have a need the BPO industry can satisfy, Colombia is the ideal destination and has spent years preparing itself to be this competitive.
Learn more about PROCOLOMBIA'S investment services and expand your business now.
Cosmetics and personal care
Information technology and creative industries