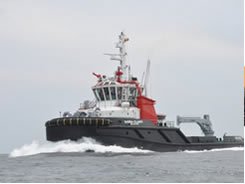 Cotecmar builds the first oil tugboat in Colombia
With the introduction and launching of Doña Clary; the first tugboat built in Colombia to cater the offshore oil industry; the Corporation of Science and Technology for the Development of the Naval, Maritime and Fluvial Industry - Cotecmar and Serviport S.A. have written a historic chapter in the maritime construction industry of the country. 
Based on their experience as pioneers in the naval industry in Colombia, Serviport; a maritime oil service provider in Colombia, chose the Cartagena shipyard to move forward with the project, which due to its level of complexity, required the experience and knowledge demonstrated by Cotecmar through the development of ships such as the A.R.C. 20 de Julio Ocean Patrol Ship, Heavy and Lightweight River Support Patrols, and Shielded River Patrol Boats, among others.
"The technological, social and economic impact of the project are evident, among them we can highlight the constant learning process, ownership and development of new technologies, strengthening training in different areas of knowledge for engineers, and technicians of Cotecmar" said Rear-Admiral Roberto Sachica, president of Cotecmar.
The vessel is the first of its kind built in the world, and is the result of a special design to support oil tanker loading operations and maritime infrastructure maintenance carried out in this specific case, in the Gulf of Morrosquillo.
This project required 40,000 hours of detailed design and 558,000 hours of construction, it generated more than 400 direct jobs. It is also a boost for the steel work and metallurgy industry in the country, recently included in the Productive Transformation Program by the National Government.
Through the work done in conjunction with Cotecmar, PROCOLOMBIA continues its outreach strategy in the world, based on the strength of the Colombian shipyard industry, and taking advantage of the geographic location of Cartagena as a reason for commercial vessels in the Caribbean and Latin America, to choose Colombia as their first option to build or repair their infrastructures.
Cosmetics and personal care
Information technology and creative industries