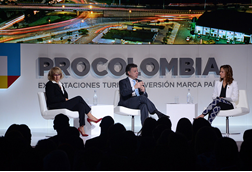 Colombia's promotion agency evolves ¡now it is PROCOLOMBIA!
PROCOLOMBIA will continue to move forward promoting the country as a destination to invest and to grow in the region. These are investments that strengthen and expand the local industry and that are able to link the chain of clusters or regional business groups that contribute to innovation and sustainable development. 
During the 22 years PROCOLOMBIA has operated, the country has had an unprecedented social and economic transformation: it has received ten times more Foreign Direct Investment (FDI), it exports have grown eightfold, it has reached a greater number of destinations and has grown as a recipient of foreign travelers placing the country above the world's average.
According to Maria Claudia Lacouture, president of PROCOLOMBIA, "the promotion agency has strengthen its role by attracting investments that stimulate local industry, by generating new regional exports, by incorporating cutting edge technologies and enabling buyers to find just the local providers they need."
During the past four years as a result of the noteworthy management and advisory efforts of PROCOLOMBIA, 277 FDI projects have been attracted from 30 different markets, which have generated an estimated 116,976 jobs.
According to the World Investment Report of the Conference of the United Nations on Trade and Development, Colombia ranked as the tenth emerging economy making it the country that received the highest amount of foreign capital during 2013; a historical record for the country totaling US $ 16.822 billion.
Cosmetics and personal care
Information technology and creative industries