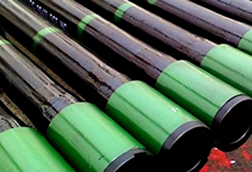 Colombian manufacturer Tayrona Steel Pipe signs Joint Venture agreement with Perma Pipe
Tayrona Steel Pipe (TSP), a Colombian company in the Caribbean region is almost ready to begin operations by the end of the year. Its strategic location allows it to have complete access to the markets of South America, Mexico, USA and Canada.  The company is the first one in the country offering Japanese and American technology for the manufacture of pipes for oil and gas equipment. TSP has partnerships with the largest steel pipe manufacturers in the world.
The joint venture agreement to establish a pipe insulation facility in Colombia will first serve Colombia, Mexico, Venezuela, Ecuador and Peru beginning before 2015. Tayrona Steel Pipe manufactures pipes for oil and gas equipment. This agreement starts with a multi-million order to supply pre-insulated pipe for a very important oil company in Latin America for a time period of three years.
TSP will provide steel pipe, casing and tubing and corrosion for the line pipe.  Perma Pipe, a MFRI subsidiary, will on the other hand provide an advanced insulating process equipment called Xtru-Therm, technology and training. TSP will own 51% of the joint venture while Perma-Pipe will own 49%. The factory will be located in TSP's new production facility in the free zone in Santa Marta, Colombia.
MFRI has currently operations at 10 locations in different countries. Its subsidiary, Perma Pipe, is the largest pre-insulated piping systems for District heating and cooling manufacturing in USA. Tayrona Steel Pipe will for sure meet the standards of the prime oil industry in the world. TSP's established position in Latin America and Perma Pipe's experience offering piping solutions will turn this joint venture into a huge opportunity to be a part of the emerging infrastructure and industrial developments need in South America.
Colombia is the fourth largest oil producer in South America. Its economic climate, pro business environment and low inflation and GDP growth make Colombia a great place to break into the Latin American market.
Cosmetics and personal care
Information technology and creative industries