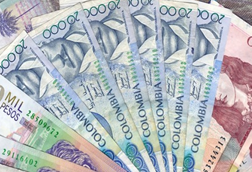 Colombian economy grows 4.2% in the third quarter of 2014
The activity that most contributed to the growth of the country's economy between July and September was construction (12.7%), followed by commerce, repairs, restaurants, and hotels (4.8%), and social, community, and personal services (4.7%), as reported by the National Administrative Department of Statistics of Colombia (Departamento Administrativo Nacional de Estadística [DANE]).
"During the third quarter of 2014, construction's good performance is explained by an increase of 14.1% in new buildings and 11.1% in civil construction work, that is, roads, bridges, and other infrastructure construction projects, including projects such as dams and local construction work," said the director of the DANE, Mauricio Perfetti del Corral.
Commerce also contributed to the local economy's growth, recording a rise of 4.8%, in the provision of automotive repair services, retail store purchases, and hotel, restaurant, and catering services.
Transportation's behavior was marked by 3.7% growth in ground transportation services; 4.7% growth in air transportation services; 6.9% growth in auxiliary and supplementary transportation services; and 3.9% growth in postal and telecommunication services.
Business establishments had their highest peaks due to a 7.5% increase in financial brokerage services; business services grew by 3.8%, and real estate and housing rental by 3.0%.
So far this year, between January and September, according to the DANE, GDP recorded a growth rate of 5%.
Cosmetics and personal care
Information technology and creative industries