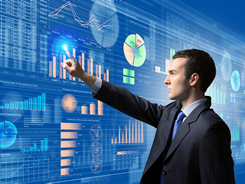 Colombian Economy Grew by 4.3% in 2013
According to data by the National Administrative Department of Statistics (DANE), the construction (9.8%), social services (5.3%), and agricultural sectors (5.2%) boosted Colombia's Gross Domestic Product in 2013
The statistics department pointed out that the driving force behind agriculture was coffee production, with an average growth of 22.3%. Meanwhile the demand for consumer semi-durables showed a growth of 6.8% regarding household consumption. As for investments, the fields of public works, building construction, and machinery and equipment showed a growth of 10.4%, 9.8%, and 3.6%, respectively.
President Juan Manuel Santos informed that Colombia's GDP growth of 4.3% in 2013 ranks as the second highest increase in Latin America, ahead of countries like Chile (4.1%), Mexico (1.1%), and Brazil (2.3%), based on data by each of the national statistics agencies involved.
"Also, Bloomberg published a survey this month where banks informed that the best global economic performance in 2014 will belong to Colombia", stated President Santos, adding that the Government expects to achieve a total growth of 4.7% in 2014.
Cosmetics and personal care
Information technology and creative industries