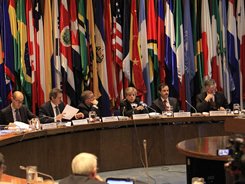 Colombian economy among those with more fdi
According to a report by the Economic Commission for Latin America and the Caribbean (ECLAC), last year Colombian economy climbed from the fourth to the third place regarding investments in the region.
The commission informed that Colombia, with an increase of 18% and 15.832 billion USD, is among the group of countries with a significant increase in foreign resources.
The sectors receiving investments in Colombia last year were manufacturing industries with a share of 12.9% ($2.050 billion USD), transportation, storage and communications with 10.9% ($1.727 billion USD), among others.
Between 2000 and 2012, the US was the main source of FDI in Colombia, with accrued amounts of $10.067 billion USD, followed by the U.K. and Chile with $6.187 billion USD and $3.952 billion USD, respectively.
Cosmetics and personal care
Information technology and creative industries