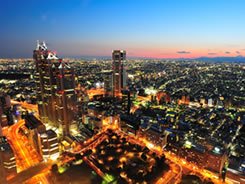 Colombian and Chilean investment potential will be on display at the seminar in Japan
Tokyo, Japan. The coming week, PROCOLOMBIA and Prochile will congregate a group of 80 Japanese entrepreneurs in Tokyo to provide them with the current scenario on the investment potential offered by these two countries in a variety of sectors.
The two agencies will give detailed information on the offering and existing opportunities for Japanese companies, as part of their engagement towards the promotion of bilateral trade and investment to reach new markets, among which is the Asian one.
The entrepreneurs attending the event, to take place on February 28, will also learn about the experience of the Japanese companies established successfully in Colombia and Chile.
Itochu Company Managers will count the determinants for the largest investment ever made by a Japanese company in the history of Colombia, with a figure reaching 1.6 billion dollars for the acquisition of 20% of Drummond's mining operations; the same goes for Sumitomo executives, who have already been present in Chile for several years.
The event will take place at the facilities of the Japanese Bank for International Cooperation (JBIC), with the support of the Interamerican Development Bank (IDB), the Embassies of Colombia and Chile, and the Japanese Institute for Overseas Investment (JOI).
PROCOLOMBIA and ProChile are the two countries' trade promotion entities, and they are both part of Alianza Pacífico (Pacific Alliance), which entered into a Memorandum to join efforts and experiences to favor foreign trade development and competitiveness, as well as investment. ProMéxico, PromPerú and Proinversión are also part of the Alliance.
Among the most recognized Japanese companies already established in Colombia are Itochu, Mitsubishi, Mitsui, Sumitomo, Toshiba, Toyota Tsusho, NEC, the Bank of Tokyo UFJ Mitsubishi, Mitsui Financial Group, Toyota, Yamaha, Hino Motors and Mazda.
Cosmetics and personal care
Information technology and creative industries