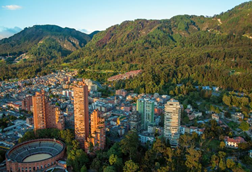 Colombia will grow twice as much as the rest of Latin America in 2015: ECLAC
According to a report issued by the Economic Commission for Latin America and the Caribbean in December, the growth forecasts for Colombia are solid and stable in the long term and are estimated at 4.3% for 2015, while for the other countries in the region the forecast is 2.2% on average.
According to ECLAC, the moderate regional increase will occur in a context of slow and heterogeneous recovery of the global economy, where the prices of raw materials will stay low and there will be low external demand in the region, in addition to an increase in the level of financial uncertainty.
The Executive Secretary of ECLAC, Alicia Bárcena said that the region needs "a reactivation of domestic demand by favoring investments. This would have a positive impact on the productivity and competitiveness of the economies".
ECLAC invites the governments of Latin America to support advances in productivity by including their countries' firms in regional value chains, and strengthening the region's capacity to deal with external shocks through financial integration. The Pacific Alliance, in which Colombia is a member, is making progress towards this goal.
Cosmetics and personal care
Information technology and creative industries