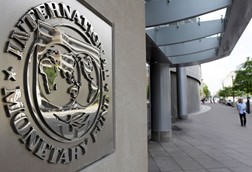 Colombia will continue to grow at a higher rate than the rest of the region in 2015: IMF
Against the backdrop of the fall in world oil prices, the International Monetary Fund has highlighted Colombia as one of the countries that, even in the face of the current situation is continuing to grow and is showing positive indicators.
For Alejandro Werner, Departmental Director for the Western Hemisphere at the International Monetary Fund (IMF), from an economic, financial and macroeconomic viewpoint the Colombian economy is very solid, which allows it to confront the current low oils prices with positive results.
In accordance with IMF estimates, Colombia will grow in 2015 by 3.8%, which is a level of growth above the Latin American average, and estimates an increase of 1.3% of GDP this year.
According to the international institution, Colombia enjoys the support of an excellent financial system which is diversified, segmented and has strong institutions. The country is moving forward and is getting closer to a new age of development and prosperity.
Cosmetics and personal care
Information technology and creative industries