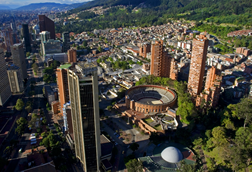 Colombia, the third country in the region where foreign investment grows the fastest: ECLAC
The Economic Commission for Latin America and the Caribbean (ECLAC) reported that Colombia's foreign investment grew by 10% reaching US $ 8.452 billion at the cutoff of the first semester. Conversely, inflows of foreign capital in 15 Latin American countries and the Caribbean decreased by 23% in the same period versus the previous year (ECLAC).
Panama and The Dominican Republic lead the top two spots closely followed by Colombia. Uruguay advanced 9% reaching US $ 1.568 billion. Brazil, according to ECLAC data between January and August of both years, grew 8% reaching US $ 42.001 billion. Guatemala during the first half of 2014 welcomed foreign capital totaling US $ 713 million increasing 3% annually.
In its report, ECLAC said that among the factors for the decline of FDI include the absence of major business acquisitions during the first half of 2014 which were recorded during the same period the year before, coupled with the cool down of mining investments due to the falling of metal prices in many countries within the region.
Cosmetics and personal care
Information technology and creative industries