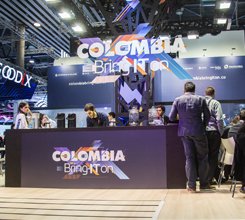 Colombia takes its technological offer to the mobile world congress 2017
The group of representatives of the Information Technology and Digital Content industry is made up of 27 companies, all of them supported by 'Colombia Bring IT On', the initiative of the Ministry of Information and Communication Technologies (MinTIC) and 'ProColombia', which seeks to internationalize the local industry.
In addition to the group of entrepreneurs, "Colombia will have a booth in which the 'Colombia Bring IT On' campaign will be presented and where entrepreneurs will be able to interact with other countries to promote the IT industry and digital content in international markets," said the Ministry ICT through a press release.
In the group of colombian companies participating in the Mobile World Congress stand out names like 'Adsmovil', 'Aldeamo', 'Abogados Ya', 'Mensajeros Urbanos', 'Greencode', 'Quipux', 'AZlogica', 'Ingeneo y Techni Support', among others.
The colombian companies that will be present at the 'Mobile World Congress' come from Bogotá, Medellin, Pereira, Manizales, Cali, Cartagena, Barranquilla and Caquetá. During their participation in the event these firms hope to establish high level contacts with international companies, a relationship that will allow them to identify business opportunities.
"Colombia has an entrepreneurial DNA and has a world-class IT and digital content industry with high potential and projection to compete internationally. We are supporting our entrepreneurs to be at the epicenter of the mobile industry and to look for business opportunities with international buyers thanks to its innovative and highly exported products and services", said Minister David Luna, who will be present at the Mobile World Congress.
During his participation in the event, Minister Luna will be part of the ministerial meeting that takes place in parallel to the 'MWC', a space in which government leaders of the ICT sector discuss issues related to public telecommunications policies. In addition, Minister Luna will be in charge of opening the booth of 'Colombia Bring IT On' in the congress, and will have meetings with international entrepreneurs of the ICT sector.
In addition to the entrepreneurs who will be present at the Mobile World Congress, Colombia will have six teams participating in '4 Years From Now (4YFN)', an event in which some of the most important startup in the world meet, which meet with potential investors.
Source: Colombia Bring IT On
Cosmetics and personal care
Information technology and creative industries