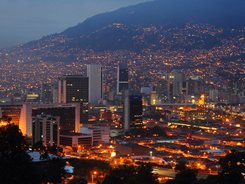 Colombia ranks third largest economy in Latin America
According to President Juan Manuel Santos, Colombia's economy has become the third largest in Latin America with an annual growth of 4.9%. 
In his statement, President Juan Manuel Santos highlighted that the country has energy, biodiversity, water, which is currently a scarce resource, land and that is why it can increase the production of food in the world. Colombia is a growing star rich in many sources the land offers, what Colombia needs is investment. Additionally, the Free Trade Agreement provides entrepreneurs with good opportunities in an interesting market of 47 million people.
The country's economic stability and favorable economic performance in absorbing debt placement within 10 to 30 years invites entrepreneurs to invest where they could also benefit from the Free Trade Agreement with the United States.  The risk agency, Fitch, recommended the Colombian corporate bond market as a market that offers investment opportunities.
For 2013, economic growth could get a boost in investment in infrastructure, as a result of regulatory changes introduced by the Santos Administration and implementation of the investment plans of local governments.
Source: La Republica - Revista Dinero
Cosmetics and personal care
Information technology and creative industries