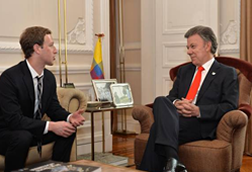 Colombia, Latin America's New Silicon Valley: CNN Money
The American publication points towards the country's technological development, as well as its social, economic, and political evolution.
The article features the growth of the country's technological industry, which increased by 177% between 2007 and 2012, reaching $6.8 billion USD. Colombia's new environment is so unique and attractive that its capital, Bogota, was chosen by Mark Zuckerberg to announce his plan of bringing free Internet to the country.
Firms like Google, Facebook, and Microsoft have given the country their vote of confidence and have opened headquarters in Bogota.
CNN also displays the progress of Colombia's middle class, which increased in 50% between 2004 and 2014, according to a report by the World Bank.
In CNN's opinion, the secret ingredients of Colombia's change are the diversification of the economy and a policy driven by foreign investment. U.S. exports into the country have increased to nearly 400% since 2003. Colombia has signed trade agreements with the United States, Canada, and Europe, and is a member of the Pacific Alliance, a Latin American collaboration bloc that promotes connections with Asia.
This year, CNN expects the country's economy to triple its size compared to the last decade, and ends by stating that, while many regions in Latin America have shown similar progress, Colombia's history is divided by a milestone that separates a history full of struggles from a present that leads to a path of development, peace, and growth.
Cosmetics and personal care
Information technology and creative industries