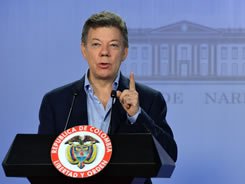 Colombia Is the Latest Country to Be Invited to Join the OCDE
Bogota. Colombia is moving ahead in the process to join the group of 34 nations that are part of the Organization for Economic Cooperation and Development (OCDE). The countries all have transparent economic practices that contribute to global development.
After just two and a half years of work - a record time - Colombia joined the group of countries that are recognized around the world for their good practices in managing their economies to improve the lives of their citizens, a key objective of the Organization.
"This significant step that we are about to take will help to improve the quality of our public policies, and now, we will measure ourselves with the highest standards. Investor trust in our country is going to increase even more, which means more jobs, more competitiveness, better living conditions for all Colombians," said Colombian President Juan Manuel Santos.
At the press conference held in Paris last Thursday, OCDE Secretary General Angel Gurria indicated that the decision emphasizes the OCDE's commitment to continue diversifying its membership and reinforces its position as the standard bearer in setting international standards and best practices.
"Colombia indicated that access to the OCDE will strengthen its reform and development efforts. The contribution of these countries will enrich our collective experience and underscore the Organization's role as a source of effective, innovative public policies," commented Gurria.
Once Colombia signed on to the Organization's Declaration on International Investment and Multinational Enterprises, it assumed the commitment to treat foreign investors as domestic investors and to foster responsible corporate conduct so that companies coming into the country can contribute to economic, social and environmental progress.
"Foreign companies have one more reason to include Colombia in their investment plans, because they'll have the assurance of doing business in a country with transparency in its economic policies. This achievement comes on top of The Economist's recognition, which included Colombia in the list of the six most attractive countries in the world in which to do business, and a higher investment grade. Standard & Poor's raised it to BBB a few months ago," emphasized PROCOLOMBIA President Maria Claudia Lacouture.
In 2012 when the Organization for Economic Cooperation and Development presented the study "Colombia Investment Policy", it underscored that the country had a less restrictive environment for investment inflows that the average for OECD and Latin American countries.
It also said that legislative and policy changes helped to position the country as an attractive destination for foreign capital inflows.
Investment as a percentage of the Gross Domestic Product (GDP) in Colombia has doubled in the last decade, reaching 26.6% between 2000 and 2011.
In recent years, the Colombian government has implemented procedures to identify and eliminate unnecessary barriers that affect foreign investment inflows. Some cases were identified in SIFAL, PROCOLOMBIA's system to facilitate and attract investment.
"Having been accepted as a member, as part of the OECD, is an accomplishment that all Colombians should be proud of. This is wonderful news, not every country is invited to be part of this organization. Only the best are invited, and fortunately Colombia is one of those!," said Santos.
Cosmetics and personal care
Information technology and creative industries