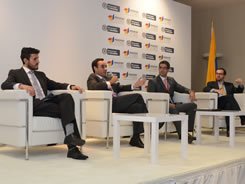 Colombia is known as an international export platform
Juan Carlos Gonzalez, Vice President of Investment at PROCOLOMBIA, stated that the aim of the seminar was to present investment opportunities the country has to offer and to highlight the benefits of leveraging Colombia to export products globally.
" We want more companies from the industrial heartland of the United States (Illinois) to reach Colombia, we want to show entrepreneurs what they are able to do in Colombia and how to tap into that growing market, and to export to other markets leveraging the country as an export platform " Gonzalez said.
PROCOLOMBIA has identified specific business opportunities for U.S. companies that are engaged in the automotive, chemical, construction materials and cosmetic sectors, just to name a few.
"These companies can find in Colombia an opportunity to reach tertiary markets and create additional jobs in our country," he added, also indicating that through PROCOLOMBIA 45 investment projects arrived in 12 regions of Colombia that will generate 10,000 new jobs.
"There is an efficient platform to reach other markets out of Colombia," he added, referring to the case of the Japanese company Furukawa, that sought to strengthen and expand its operation in the Andean region and Central America, by announcing it will build in Palmira (Valle del Cauca) a fiber optic cable producing plant. From this factory, not only will it serve the domestic market but also those countries located on the American Pacific Basin using various free trade agreements signed by Colombia.
" This is a great example to illustrate how investment is generating investment, employment, and reaping the benefits of those trade agreements" concluded Gonzalez.
During the seminar Invest in Bogota the nation's capital was also showcased as a destination for new investment. Also existing entrepreneurs told their experiences while investing in Colombia.
This was the case of TMF Group, a multinational company founded in the Netherlands with presence in 80 countries and whose major clients are U.S. firms.
" The reason to come to Colombia was a direct response to the request of our customers who specifically asked for our presence in the country. Two years ago we settled in Bogota and expanded to Barranquilla. This reaffirms that Colombia has significant American and European investment, especially from Spain, Germany and England, "said Gonzalo Garcia.
He explained that the arrival of the multinational to Colombia allowed them to learn more about the second most important Hispanic market that has a growing population of English speakers and that represents an investment advantage both for U.S. companies that want consolidate in Colombia or are looking to start and expand to other economies throughout Latin America "
Cosmetics and personal care
Information technology and creative industries