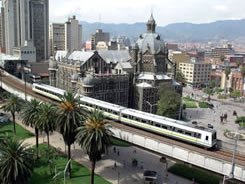 Colombia is fashionable abroad: Infomoney
These difficult challenges have enabled Colombia to better avail itself of the agriculture, tourism, natural resource exploration and technology sectors. The country's geographical location is a strategic advantage, since it is the only nation in South America with coasts on the Atlantic and Pacific oceans.
Even though Brazil's GDP is higher than Colombia's, the latter's growth was from zero to 2.2% in last year's fourth quarter whereas Brazil's was from zero to 1.8%, according to InfoMoney Magazine.
Another study by the IMF (International Monetary Fund) pointed out that Colombia's GDP should reach US$ 500 billion in 2018, placing it behind Brazil and Argentina only.
In December of last year Fitch Ratings decided to increase the sovereign credit rating in foreign currency for Colombia to BBB, up from the previous rating of BBB-. This is due to improvements in foreign exchange dynamics and to credibility policies.
Marcos Elías, Managing Partner for Gradual Investimentos, added that "Colombia is going through a very good period, when you visit this country, look around and you fall in love with it."
Cosmetics and personal care
Information technology and creative industries