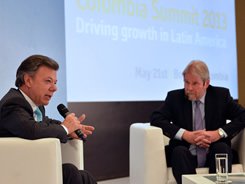 "Colombia is a safe country for foreign investments": The Economist
Irene Mia, the Latin America and the Caribbean Regional Director of the Economist Intelligence Unit (EIU) pointed out that during the last few years, Colombia has known to become as a safe destination for foreign investments and a country with potential, thanks to the size of its population and its resources.
Mia stated this during an interview for La Republica de Colombia newspaper, and also added that greater trust is now perceived abroad regarding tax policies, the strength of institutions, and macroeconomic and financial stability.
During the "Colombia Summit 2013: Driving growth in Latin America" held in Bogota, Christian Deseglise, Co-Director of BRICLab in Columbia University and Global Asset Management of HSBC, stated that Colombian economy is on the right track, particularly thanks to the work being carried out through the Pacific Alliance, as this will allow the country to increase trade operations with Asia's leading nations and show the potential of productive connections.
"The Pacific Alliance is the perfect starting point, we already have an FTA with the US and now we must discuss deeper issues to create a true integration and trade zone. For instance, the Pacific Alliance poses the right opportunity to address the phytosanitary issue", declared Luis Guillermo Plata, former Minister of Trade of Colombia and former President of Proexport.
Plata added that foreign direct investment welcomes the opportunity to leverage the country's resources as an exporting platform. "When that happens, in the long run the beneficiary will be Colombia", he explained.
Cosmetics and personal care
Information technology and creative industries