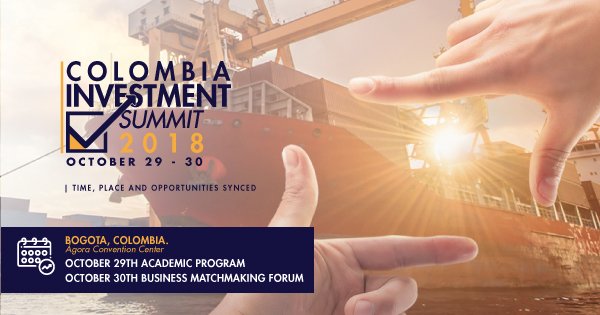 Colombia Investment Summit 2018
The Colombia Investment Summit 2018 is the most important event for doing business in the country. This event is part of the strategy of taking advantage of the International Investment Agreements, diversification of sectors and the potential of Colombian regions. Likewise, it is an opportunity to show the Colombian companies and projects with all the conditions and willing to receive foreign capital.
200 investors from Latin America, North America, Europe and Asia will meet with Colombian companies and partner agencies, with the objective of building new partnerships and alliances for the all the economic sectors. The event is expected to have 1,500 business one on one meetings, generating new investment opportunities in the country.
According to Flavia Santoro, President of ProColombia, "Under the leadership of President Iván Duque, Colombia presents itself as an ideal destination for foreign investment with great opportunities for entrepreneurship and creative industries, agroindustrial and tourism development, manufactures and specialized services that can contribute to our country having a thriving and outstanding economy in Latin America. "
The event will be held at the Ágora Convention Center. On its first day, Monday of October 29th, an academic agenda will take place, led by the President of the Republic Iván Duque, and several ministers of the National Government, who will present the economic outlook and investment opportunities. In addition, the president of the Inter-American Development Bank will participate, and a panel about orange economy and creative industry will also take place the first day.
In the second session, on Tuesday of October 30th, a business round will be held between the attending investors, Colombian companies and support entities.
With this event, Colombia seeks to consolidate itself as the best destination to make investments and businesses as a platform for the Americas and the rest of the world.
Cosmetics and personal care
Information technology and creative industries