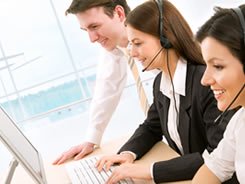 Colombia included among Gartner's research of top 30 country destinations for offshore services
Bogota. Gartner, a leading information technology research and advisory firm, included Colombia in its annual study of the top 30 countries for offshore services destinations.  Colombia has been recognized as part of this select group since 2010.
PROCOLOMBIA believes this is an important recognition for Colombia, as the leading global companies make decisions based on the information published by Gartner studies.
For the analysis, Gartner identifies 10 categories that are important for organizations to consider when looking at a potential location for offshore or "nearshore" IT or business process services, including language, government support, labor pool, infrastructure, educational system, cost, global and legal maturity, cultural compatibility, global and legal maturity, and data and  intellectual property security and privacy.
The publication discusses Colombia against these parameters. Noted in this year's report was Colombia's strengths as a location for call center and transaction BPO work, proactive government support for the IT sector, and cost competitiveness.  According to PROCOLOMBIA, there are now more than 60 multinational companies, 50 large international IT and software services and 30 telecommunication multinationals established and operating in the country.
THE SECTOR IN COLOMBIA
This achievement was made possible by the effectiveness of the international promotion conducted by PROCOLOMBIA highlighting the country as an offshore destination where the advantages and characteristics of the country were exhibited for the export of BPO services and information technology, in addition to endorsement of FDI, exports and tourism to Colombia.
The business process outsourcing sector (BPO), which is part of the Ministry of Trade, Industry and Tourism's Productive Transformation Program, has grown substantially in Colombia. Reaching more than USD 1.5 Billion in operational income in 2011 which represents a grow of 11% when compared with 2010 according to the sector business associations (Asociación Colombiana de Contact Center y BPO (ACCC&BPO) and ANDI´s BPO&IT chamber).
According to the Colombian Association of Contact Centers and BPO and the Chamber of BPO of ANDI, in 2011 there were more than 150,000 employees in the industry. The number includes voice BPO, Data BPO and ITO operations in different industries.
For the first time ever, Medellin hosted Outsource2LAC, an annual even organized by the Inter-American Development Bank. This year it had the support of PROCOLOMBIA, which arranged for more than 500 business people from Colombia, Ecuador, Peru, Guatemala, the United States, Spain, the Dominican Republic, Brazil, Portugal, Venezuela, India, Mexico, Nicaragua, Jamaica, Canada and Costa Rica to participate in outsourcing business and BPO meetings.
*Gartner, Inc., Analysis of Colombia as an Offshore Services Location, Allie Young, Frances Karamouzis, October 25, 2012.
Cosmetics and personal care
Information technology and creative industries