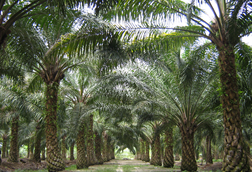 Colombia highlights foreign investment opportunities of palm oil in six regions
Colombia is the leading producer of palm oil in the Americas and a pioneer in high oleic variety worldwide.
The departments of Cesar, Meta, Magdalena, Santander, Bolívar, and Casanare have some of the greatest potential in the development of foreign investment projects in palm oil extraction and processing to meet international demand for products such as biodiesel, cosmetics, foods, and industrial chemicals.
This is confirmed by a ProColombia analysis identifying FDI opportunities in the construction of refining plants, modernization, and technology transfer, seeking to promote the strengthening and competitiveness of the sector in joint actions with the Ministry of Agriculture and the Ministry of Trade, Industry, and Tourism.
"The possibilities for strengthening the sector and attracting foreign direct investment are factors that make Colombia stand out as a key player in the global market. According to the FAO, our country is the fourth largest producer of palm oil globally and the largest in the Americas, with 1,110,000 tons produced in 2014. It is also a leader in the organic variety, according to reports from the French firm Ecocert" says ProColombia President María Claudia Lacouture.
Eighty percent of palm oil production in the country is intended for the local food and biofuels market, while only the remaining 20% is for export. Incentives for foreign investment to develop an improved industry that is sustainable and competitive would allow companies within the sector to better exploit this crop and its derivatives and to generate more sales abroad.
The International Palm Oil Conference highlights derivatives such as the biodiesel produced in Colombia, which reduces greenhouse gas emissions (GGE) by approximately 83% and exceeds the standards set in Europe and the United States. This represents opportunities for trade in this sector, keeping in mind the adoption of a mixtures policy for fuel processing in many countries.
Cosmetics and personal care
Information technology and creative industries