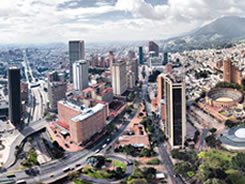 Colombia Has the Most PPP-Friendly Environment in the Region
A report by the Economist Intelligence Unit (EIU) states that the environment for PPPs is improving along the increasing demand for infrastructure projects with private equity, which has driven a rising group of countries to increase their capacity and disposition towards investments from this kind of partnerships.
Colombia is leading these countries with "joint efforts in changing regulations and creating capabilities," as the EIU document reads, adding that institutional and legal frameworks and a positive investment environment have been vital to manage PPP investments in Colombia.
Mauricio Santa Maria, National Planning Director, added that one of the advantages of Public-Private Partnerships is that "they can act upon the chance of large investments where the Government can partner with private interests for the benefit of society."
He noted that its been a year after the law that provides a legal framework to PPPs was approved, and the private sector has already submitted 45 initiatives for funding through this method. 
The NPD Director finished by claiming that the resources of Colombian Public-Private Partnerships can reach sectors such as the construction and supply of hospital infrastructure, education campuses, and even jails.
Cosmetics and personal care
Information technology and creative industries