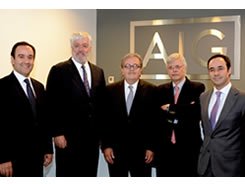 Colombia has become an investment destination for shared service centers
Bogota. The investment in Colombia announced by AIG to service its back office processes in its Latin American affiliates confirms the country's growth potential in this sector and quickly becoming a source of job creation and development of human capital.
This is how Maria Claudia Lacouture, the President of PROCOLOMBIA, the entity that supported AIG for two years, reaffirmed its mission statement to attract foreign direct investment.
"This investment is quite important because it places the country as an investment benchmark to establish shared service centers in the continent, a niche sector that has caught the attention of potential investors from Europe and North America, who have visited several regions of country this year to learn about opportunities in this field" noted Lacouture.
When AIG evaluated Colombia to settle their operations, they highlighted the legal and political stability of the country, the growth potential of the economy and increasing workforce of 3.9 % per year, according to the Annual Global Competitiveness.
Shared service centers allow multinationals that have regional presence to centralize all administrative functions. Among the most common are finance, accounting, human resources, procurement, billing and customer service, among others. This approach helps organizations monitor, manage and supervise these processes more efficiently.
AIG is part of the group of 45 foreign investment projects that PROCOLOMBIA supported and advised this year. These companies are expected to generate 9,178 jobs in 15 departments and an estimated investment value of approximately U.S. $ 1.402 billion in the country.
Cosmetics and personal care
Information technology and creative industries