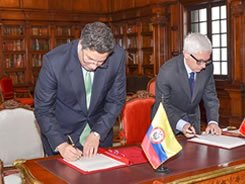 Colombia and France sign an agreement to protect investments
"This APPRI is complemented by Colombia's Trade Agreement with the European Union. France is a country that has believed in Colombia and has invested in several sectors, like industry, trade, and the financial sector," Rojas stated.
In turn, Ambassador Laforet assured that France will make "more efforts to increase the number of companies in Colombia."
This signing establishes clear rules of the game for investors from both countries and provides protection, clarity, and a transparent legal framework for the treatment of capital established in both countries.
The international agreement will enter into force at the time of receipt of the final notification from one of the two States confirming that the treaty has been incorporated into its internal laws, and it will be remain in force for an extendable 10-year period.
Between 2004 and 2014, France was the fourth most important European investor in Colombia, investing US$1.819 billion. Sixty-nine percent of the French FDI was targeted at the industrial sector.
Companies like Saint Gobain, Renault, Grupo Casino, Schneider Electric, Accor, Danone, and SEB, among others, are included among the 120 companies operating in Colombia that have created more than 80,000 jobs according to figures from the French embassy in Bogota.
Cosmetics and personal care
Information technology and creative industries