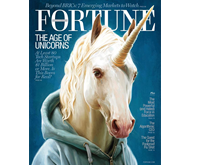 Colombia, Among the Top Foreign Investor Destinations: Fortune
An article by Fortune magazine reveals how the economic slow-down and contraction in countries like China and Russia resulted in "a new world of business", where stability and resilience are key ingredients for investment.
As an answer to the question of where should companies turn to for their strategic investments, Fortune presents Colombia as one of seven smart bets where investors will find the ideal business environment, good governance and sustainable growth.
The article points out factors like GDP growth over the last five years, average time to open a new business, investment flows in 2013, as well as the FDI legal and regulatory framework, all in which Colombia stands out considering the country's positive indicators.
It also points at the growth of the middle class and the country's predominant young population, with an average age under 30 years old.
Fortune highlights the government's actions towards peace, which will strengthen the legal framework, improve agricultural development, and bring more foreign investments.
Read the full article Here.
Cosmetics and personal care
Information technology and creative industries