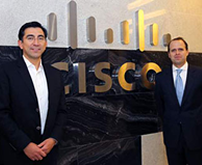 Cisco Announces New Investments in Colombia
Cisco, worldwide leader in network solutions, announced a $6 million USD investment as part of its strategy to expand its operations in Colombia, where it is planning to open new offices and a customer experience center, as well as expanding its training programs.
According to Christian Onetto, manager in Colombia of this California-based corporation, the decision to strengthen local operations arises from the fact that "Colombia has one of the best growth projections in the region, as well as the country's current standing, which attracts more foreign investments."
The additional resources will be used to open new offices in Bogota, through the official    inauguration next March of a site that includes the first Cisco Customer Experience Center in the country, among others.
This year, Cisco will celebrate 20 years of presence in the country, and will allocate resources to improve their Medellin office and to support the Networking Academy program, through which the corporation provided IT&C training for nearly 100,000 Colombian students.
According to the Bank of the Republic's Balance of Payments, United States is the main investor in Colombia, with a historic total of $46.34 billion USD.
Cosmetics and personal care
Information technology and creative industries