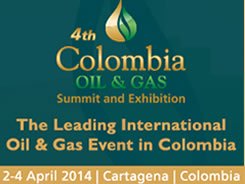 Cartagena to play host to Colombia's oil & gas decision makers
Exclusive announcements will be made by Ministers and senior representatives from national and international oil companies. Colombia's Minister of Mines & Energy, Amylkar Acosta Medina will deliver a keynote address outlining Colombia's development strategy for its hydrocarbons sector for the year ahead.
Minister Amylkar Acosta Medina will be followed on Day 2 by the Minister of Environment & Sustainable Development, Luz Helena Sarmiento to discuss Colombia's environmental policy advancements within the context of the country's oil and gas operations and Juan Carlos Pinzon, Minister of Defense will also deliver a keynote address to update the sector on measures being taken to enhance the nation's security levels.
Ecopetrol will be represented by Pedro Rosales, Executive Vice-President – Downstream, Hector Manosalva Rojas, Executive Vice President of E&P; Rafael Guzman, VP E&P Technical Development; Edward Tovar, Head of Unconventionals and Boris Villa, National Gas Director, amongst others. Keynote addresses will provide a closer look at Colombia's successes over the last year as well as delving into Ecopetrol's strategy within unconventionals, deepwater and gas exploration programmes and downstream advancements.
Delegates will also hear from the country's key industry regulators. Javier Betancourt, President of ANH will provide key announcements on the 2014 bid rounds and Nubia Orozco, ANLA's Director of Environmental Licensing will analyse the environmental licensing process in the strive to enhance efficiency and speed of operations. DIMAR will be represented by their Director General, Admiral Ernesto Durán Gonzalez.
Ministers and industry regulators will come together with senior representatives from national, international oil and gas companies to discuss and debate both Colombia's key achievements and principle challenges to ensure it remains an attractive investment destination on the global energy map.
Set to bring together over 500 top level executives, the summit will provide international, regional and local investors with the opportunity to hear about the vast opportunities across the country and network with the key decision makers.
For more information on Colombia Oil & Gas Summit please visit http://www.cwccolombia.com/
Cosmetics and personal care
Information technology and creative industries