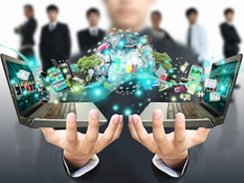 BPO, Software and IT Services among the main investment sectors in Colombia
Bogota. According to Maria Claudia Lacouture, President of PROCOLOMBIA, between January and May 2013, the promotion office has counseled and supported 14 new foreign BPO, Software and IT Services investment projects that will settle in Pereira, Manizales, Medellin, Barranquilla, and Bogota.
President Lacouture also pointed out that during the first 5 months of this year, 7 foreign software and technology services companies reported their plans to invest $63,188,487 USD in the country and expect to hire 239 direct employees.
Among these projects, two come from Spain, two projects are from Argentina, and Chile, the UK, and the United States each will sponsor one project respectively. Medellin will welcome two projects, Pereira and Manizales will be the home to one each respectively, and Bogota will secure another three.
"These facts confirm that Colombia is one of the most attractive destinations for investors in the services field thanks to its strategic location, investor protection, and the sustained growth of the country's economic indicators, among other factors," explained Lacouture.
In addition, four American investors in the BPO field, as well as one from India, Spain, and UK, respectively, who have received support and advice from PROCOLOMBIA, will invest $37,500,000 USD in Colombia. Also, 4,795 employees will be hired in Medellin, Barranquilla, and Bogota to complete these 7 projects.
Also thanks to the support of PROCOLOMBIA, BPO's foreign investment in Colombia for 2012 reached $16,522,433 USD through four projects, which are expected to create 3,562 new job openings.
"During the last year, companies from Brazil, Chile, Argentina, and Central America have become increasingly interested in starting businesses in Colombia, and we have noticed investment migration towards secondary and tertiary cities that are fostering the necessary conditions for software development through tax incentives and personnel training," added Lacouture.
According to PROCOLOMBIA, Colombia is attracting investors from countries like Israel, Philippines, Turkey, Guatemala, and Puerto Rico, which now are considering the country among their investment alternatives.
The arrival of new investments is encouraging professional training and is strengthening specialization areas, as international companies are looking for qualified personnel that meet the international standards to fulfill their professional activities.
This coming May 30th and 31st, PROCOLOMBIA will participate in the 2013 ANDI Outsourcing Summit in Cartagena to identify opportunities and provide support and assistance to attending companies to set up their BPO, Software, and IT Services operations in Colombia.
This yearly event gathers the industry's most important local and global industry representatives, who will learn about new trends and business opportunities in Colombia.
Cosmetics and personal care
Information technology and creative industries