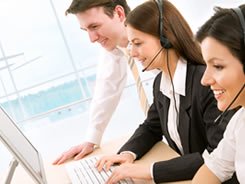 BPO Global Summit will bring together the best of the industry in Cartagena
Cartagena. The leading BPO companies in the world such as Gartner, Infosys, Microsoft, Genpact, Bancolombia, ISA, Carrefour and IBM will meet in Cartagena to discuss new industry trends and learn about the investment opportunities offered by Colombia.
The scenario will be the ANDI 2012 Summit of service outsourcing to be held with the support of PROCOLOMBIA, where customers, suppliers, academia, government and expert service and IT outsourcing advisors will share their experiences in business management that brought them to be recognized as the best in the industry.
At the summit, which will take place on May 10 and 11 at the Hotel Las Americas Convention Center in Cartagena, PROCOLOMBIA will present investment opportunities that Colombia offers in the BPO and IT industries, to all attendees.
Service outsourcing in Colombia is one of the sectors with the highest investment potential and is promoted by PROCOLOMBIA internationally. In 2010 and 2011, Gartner included the country in the "Top 30 locations for offshoring" report. The selection is carried out annually by BPO specialists of this consultancy firm who agree on highlighting the country's strength in this field.
According to International Data Corporation, Colombia is the third country in Latin America in IT sales, reaching USD$ 4,258 million in 2010, broken down as follows: Hardware USD$ 2,131 (50%), IT Services & BPO USD$ 1,638 (38.6%), and Software USD$ 488 (11.4%).
Likewise, the IT Services & BPO industry in Colombia grew 61% in the last four years, while the Software industry grew 131% and Hardware 42% for the same period.
Among the BPO and IT companies established in Colombia are Hewlett Packard, Direct TV, Citigroup, Genpact, Synapsis, Unisono, Indra, Unisys and IBM.
Cosmetics and personal care
Information technology and creative industries