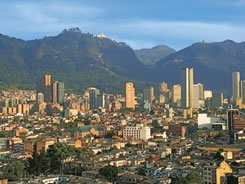 Bogota: The Best Business Environment in South America
According to the first edition of Ranking of South American States of the Future, a study carried out by the FDI Magazine of the Financial Times Group, placed Bogota as the city with the best business environment, beating out big capitals such as Sao Paulo, Santiago, Rio de Janeiro, and Buenos Aires.
The qualification was given due to the city's economic potential, numerous expansion projects of multinational companies, the amount of employees created thanks to foreign direct investment, and their risk rating.
In addition, Bogota was also ranked amongst the top five cities of the future out of 237 others.
Amongst numerous other rankings, Bogota was qualified as one of the four most important regions of South America due to its economic potential and as sixth region because of its human capital.
Juan Gabriel Pérez, Director of Invest in Bogota says that more than 1,500 foreign societies have business operations in Bogota.
The increased growth in foreign investment and its one of a kind business environment in Bogota is because of an urban, economic, social, and culture transformation that has allowed Bogota to turn into such an attractive destination.
Cosmetics and personal care
Information technology and creative industries