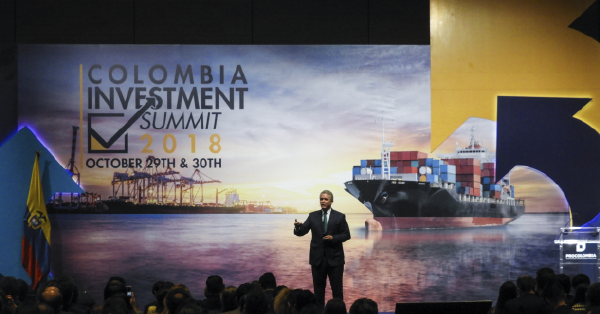 Bogotá is getting ready for the Colombia Investment Summit 2019
More than five hundred foreign investors will be at the  Colombia Investment Summit 2019—an event led by ProColombia and the Ministry of Trade, Industry, and Tourism—to create investment opportunities in the orange economy, clinical studies, infrastructure, agriculture, energy, and tourism sectors.
Considered Colombia's leading summit in foreign direct investment and strategic partnerships, the Colombia Investment Summit will take place on October 29th and 30th in the Grand Ballroom of the Grand Hyatt hotel, welcoming more than 500 foreign investors interested in new projects, incentives, and expansion opportunities in the Colombian market.
"It is Colombia's most important meeting with foreign investors because the event manages to attract high-impact businesses. The 2018 event facilitated the signing of 27 investment projects for participating companies, representing investments of over US $720 million and an expected creation of 6,400 jobs," stated Flavia Santoro, President of ProColombia, the entity in charge of promoting foreign direct investment, non-traditional exports, tourism and the Country Brand of Colombia.
Colombia Investment Summit
As an initiative of ProColombia and the Ministry of Trade, Industry, and Tourism, the Colombia Investment Summit will be attended by the President of the Republic, Iván Duque, as well as ministers and senior management of government entities, senior executives of domestic and foreign companies, and international investors interested in establishing business in Colombia or taking advantage of the country as an export platform.
"Meetings such as the Colombia Investment Summit pave the way for increased foreign investment, which in turn serves as a driver for economic recovery and contributes to fulfilling the national government's goals regarding competitiveness, development, and increased equity. We will continue working tirelessly to create incentives that attract large foreign direct investment projects: streamlining the free-trade zone model as a driver for regional development; creating sectoral tax schemes; and promoting red carpet strategies that bring together fiscal, institutional, regulatory, legal, and financial tools that have delivered satisfactory results to date," stated Jose Manuel Restrepo, Minister of Trade, Industry, and Tourism.
Investment Opportunities
The fifth edition of this business investment summit will feature an academic day on October 29 and a matchmaking forum the following day. For the first time, there will be meetings by sector, which will allow for a closer look at priority investment opportunities and more specialized discussions between investors from various sectors, including the orange economy, clinical studies, infrastructure, agribusiness, renewable energy, manufacturing, and tourism.
Business owners representing companies from North America, Europe, Asia, and Latin America are invited to consider several investment opportunities in the country.
"Colombia has positioned itself as an ideal foreign direct investment destination. Our country boasts various areas for development across its distinct regions. There are also immense opportunities for entrepreneurship and the development of creative industries, agribusiness, tourism, and manufacturing and specialized services that will contribute to Colombia's thriving and outstanding economy within the region," stated Flavia Santoro. "We want to extend an invitation to business owners from Colombia and throughout the world to be part of the Colombia Investment Summit, a space to land investment opportunities and explore what Colombia has to offer," she added.
ProColombia is the agency responsible for promoting foreign investment in Colombia, non-mining and non-energy exports, international tourism, and the country's image. Through the national and international network of offices, the agency provides support and comprehensive advice to investors through services and tools aimed at facilitating the design and implementation of their arrival strategy for operations in Colombia.
For further information, please contact us at pmiami1@procolombia.co colombiainvestmentsummit.co/en.
Cosmetics and personal care
Information technology and creative industries