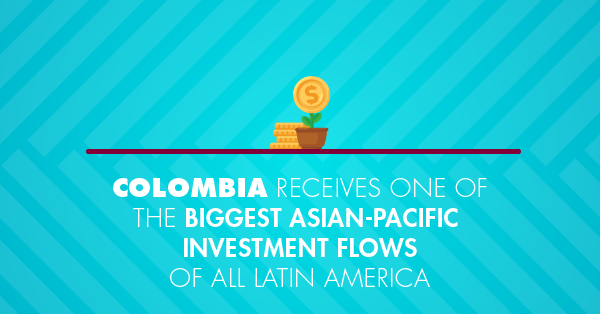 Asian investors show confidence in Colombia
Asian investors prove they have confidence in Colombia
Asian investors are discovering exciting opportunities to invest in Colombia as the Asia-Pacific region continues to show its faith in the country's future. Asian-Pacific investment partners are identifying opportunities in non-mining sectors such as business services, communications and the chemicals industry, among others.
Asian-Pacific investments totaled US$737 million in Colombia between 2011 and 2016, according to Banco de la República and US$105 million was invested in 2016 alone.
The flow of investment from Asia worldwide increased in 2016 from US$482.694 to US$518.269, according to UNCTAD. That makes the region the world's second highest issuer of foreign direct investment and it is the only region that has demonstrated strength in that area in recent years.
PROCOLOMBIA president Felipe Jaramillo said: "Colombia is perceived as one of the most dynamic economies in Latin America. We are very happy with the foreign direct investment in Colombia, especially in non-mining sectors, where we have seen significant growth."
The Japanese Effect
Japan is the biggest Asian investor in Colombia and has shown an enormous increase in the opportunities its investors have taken in the country. Japanese investment in Colombia grew seventeen times from the US$15.9 million invested between 2004 and 2009 to the US$286 million invested between 2010 and 2015.
More than 96% of that foreign direct investment from Japan went to non-mining sectors such as renewable energy, chemicals, the automotive industry and the manufacture of tools, construction materials and electrical components.
Colombia's renewable energy sector accounts for 54.1% of Japanese investment, followed by the 10.8% invested in financial services, 7.6% and 7.3% respectively in the chemicals and automotive industries and 1.7% in electrical components.
More than 80 Japanese companies operate in Colombia including Fujitsu, Hino Motors, Furukawa, the Mitsui Financial Group and Castem.
Japanese investment in Colombia is thought to have generated for more than 2,200 jobs. Colombia is in the process of negotiating a trade deal with Japan.
Castem: A Success Story
Japanese primary metals manufacturing group Castem chose Bogotá as the location for its first precision tool plant outside Asia. The plant, in the west of the Colombian capital, joins those in Japan, Thailand and the Philippines.
Castem's US$4.2 million investment has taken advantage of the incentives offered by Bogotá's free trade zones and will leverage Colombia's trade agreements with the USA and Mexico for exports. The opening of the new plant is thought to have generated more than 50 jobs.
The company chose Colombia because of the quality of its workforce and the availability of skilled metallurgy technicians.
Mr. Jaramillo, who has recently spent ten days in China, Japan and South Korea said he had encountered increased possibilities to open those markets for Colombian exports, and to attract more investment and tourism from the region.
"We saw with great satisfaction how the perception of Colombia as an investment destination has grown favorably in all indicators," he said. "Asian investors have a very positive perception of the country."
Do you want to be part of the international investors in Colombia? In PROCOLOMBIA we have offices in 32 countries and on every continent, with a strong presence in Latin America, the United States, Europe and Asia, where you can find business opportunities, participation in business fairs and assistance by experts for investors that want to be part of economic development in Colombia.
Cosmetics and personal care
Information technology and creative industries