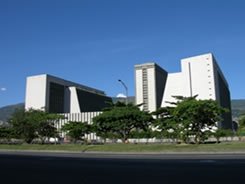 50 Private Capital Funds Expressed their Interest to Invest in Colombia
The presence of some of the most important international parties globally, as well as the progress of Colombian economy are placing Colombia in the radar of international Private Capital Funds (PCF), which are constantly looking for destinations where they can potentially invest.
In fact, PROCOLOMBIA has already identified nearly 50 new PCFs that expressed their interest to invest in the country in the following five years, mainly from Spain, United Kingdom, Canada and United States, which are traditional industry markets, and others that are new for Colombia, like the Arab Emirates and Singapore.
The main interests are still in the transport infrastructure sector; however, potential has also been detected in the agroindustry, forestry, information technologies, communications, tourism infrastructure and manufacture. Others have also captured interest, such as real estate, in the case of the United States, and energy, in Canada.
Throughout this year, PROCOLOMBIA has coordinated the visit of 12 PFCs which have visited the country to analyze and learn about domestic projects and companies that expect to expand with capital injection.
Colombia has been ranked the fourth country in the 2012 Latin American Ventura Capital Association (LAVCA) ranking that measures the environment for industry development, ascending 7 positions since 2008, ranked after Chile, Brazil and Mexico.
Although the PFC industry in the country is still in its early stage (it began in 2005), its growth potential is significant. While seven years ago, there were just two funds installed, we currently have 24, with a capital that amounts to US$ 2.2 billion, and other 9 are seeking capital for more than US$400 million.
Equity International, Brookfield, Ashmore, Brilla Group, Darby, Advent International and PSP Investments are some of the PFCs already installed, which have become a new mid or long-term financing source for Colombian companies that seek strengthen their growth, not only with capital investment but also with knowledge transfer.
20 new investors in New York
Among the reasons why Colombia is more and more appealing for this type of investments we may state that 95% of the Colombian business base is comprised of small and medium-sized companies, according to the information of the Colombian Association of Small and Medium-Sized Companies (Acopi).
Furthermore, the country has a diversified economy that allows for investment possibilities in different sectors; there is currency policy stability, growth perspective and an appealing free-trade zone system for the investor.
Joint work has also been carried out among the Ministry of Trade, Industry and Tourism, PROCOLOMBIA and Bancoldex, through its Bancoldex Capital program.
One of the activities will be carried out next November 29 in New York with the executive directors of nearly 20 U.S. GPs and LPs to present the business opportunities that Colombia can offer, in an event jointly organized with Partners Group - which also provided support in a similar event in Switzerland.
Seminars, press trips, presence in the most important events worldwide, identification of Capital Funds, development of agendas in Colombia and custom-made information for investors are other activities carried out by PROCOLOMBIA since 2009.
The participation in events like the SuperReturn International, with a special conference on the topic, has also contributed to the promotion. In the past year, PROCOLOMBIA has presented the potential of the Colombian in Brazil, United States and Switzerland.
What is a Private Capital Fund?
It is an investment medium, which main activity is the corporate and industrial strengthening of those companies wishing to exponentially grow through the development and implementation of a joint strategy between the entrepreneur and the manager.
The Fund is responsible for administering investor resources, also known as limited partners, which are provided to companies with growth potential in the mid-term. The investment is recovered from five to seven years, and the PCF leaves its share in the company in a divestment scheme. It also participates with knowledge transfer and is always present in the board of directors.
What is the PCFs opinion in Colombia?
One of the PCFs in Colombia is Advent International, from the United States, which was installed in 2011 and invested in the pharmaceutical sector. "Four years ago we started to consider the Colombian market due to its economy growth, policy stability, significant security improvements, population size and economy. This led us to think that we could find investment opportunities in this country, and we were absolutely right", explained its Director, Diego Serebrisky.
They are currently looking for other investment opportunities, especially in the financial, trade and health sector. Furthermore, its idea is to have Colombia as the headquarters to look for new businesses in Peru and Central America.
Out of the experience gained in the country, Serebrisky highlighted the interest of Colombian entrepreneurs to exchange knowledge. "Various companies are always willing to learn, as their goal is to expand outside Colombia, and our international experience is fundamental and very appealing for them. This is why working with Colombians has been very easy".
Another case is Ashmore Group, from the United Kingdom, installed in the country since 2010, with investments on the infrastructure sector. "Since that year, we learned that Colombia is the favorite destination, not only locally but globally. They all want to be here", indicated its President, Camilo Villaveces.
Like the other PCFs, Ashmore arrived to the country motivated by its legal and economic stability. Now, they want to expand their investments. "There are various sectors, but we are especially analyzing the agricultural, industrial and service industries", added Villaveces.
Cosmetics and personal care
Information technology and creative industries