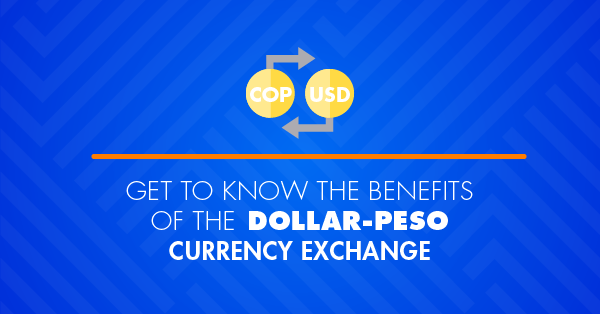 Benefits of the dollar-peso currency exchange
Take advantage of the dollar-peso currency exchange and invest in Colombia
Fluctuations in international currency exchange can sometimes strengthen the value of the US dollar against the Colombian peso. When the exchange rate between these two currencies shifts, and fewer US dollars are needed to purchase Colombian pesos, this can bring huge advantages to investors in Colombia.
This currency exchange phenomenon is sometimes known as the weakening, or devaluation, of the Colombian peso against an 'expensive' US dollar. It makes investments in Colombia even more tempting by ensuring lower labor and production costs in Colombia, and increased sales prices in the US.
ProColombia President Felipe Jaramillo said: "If a US company, for example, produces construction materials in the USA and then switches to producing those materials in Colombia, it will discover that its production is cheaper in Colombia simply because of the workforce. Making the investment in Colombia, therefore, becomes a very attractive option indeed."
Besides ensuring lower labor costs, a strong US dollar against the Colombian peso also encourages investors to purchase, and thereby encourage the production of local materials rather than relying on expensive imports.
When it comes to sectors of the economy such as agriculture, which relies heavily on inputs, fertilizers and agricultural machinery, for example, investors tend to overcome the high cost of importing US products by switching to local products or those produced in nearby countries, such as Brazil or Argentina.
This benefits both the investor in Colombia and the Colombian economy because it widens the country's trade balance, the gap between its imports and exports.
Companies based in Colombia that are focused on exports, such as those in the manufacturing, agriculture and service sectors, are also at a huge advantage when it comes to the appreciation of the US dollar against the Colombian peso. They can either take advantage of reduced production costs to offer their products at more competitive prices on the US market, or maintain their price and see a higher return when they convert their dollars into pesos.
Labor and production costs, and US sales prices, are not the only areas that benefit from shifts in the currency exchange between the dollar and peso.
Colombia's tourism sector also enjoys enormous benefits as the country becomes increasingly enticing to US tourists, who are aware of how much further their dollars will take them. This benefits everyone who has made an investment in Colombia's tourism industry, from hotel and restaurant owners to travel agencies and tourism companies. Not only do they receive more visitors, those visitors tend to spend more pesos too.
Reduced labor and production costs, higher sales prices overseas and increases in tourism are not the only reasons to invest in Colombia. Investors need political stability and a strong legal system too. Colombia enjoys both of these, which means a strong US dollar is simply an extra reason to invest.
Today's dollar-peso currency exchange has ensured Colombia is more competitive than ever when it comes to undertaking business in the country. While producers and exporters enjoy the benefits of a strong US dollar, and are providing themselves with a cushion in the event the currency stabilizes, potential investors should seize this moment and invest in Colombia.
Cosmetics and personal care
Information technology and creative industries