Cocoa, by-products and chocolate
Colombian cocoa is world-renowned for its flavor and aroma and it is classified within a special cocoa category. Furthermore, the sector drives job creation and sustainable environmental and economic development in Colombia.
Why invest in the confectionary and cocoa-derived product sector?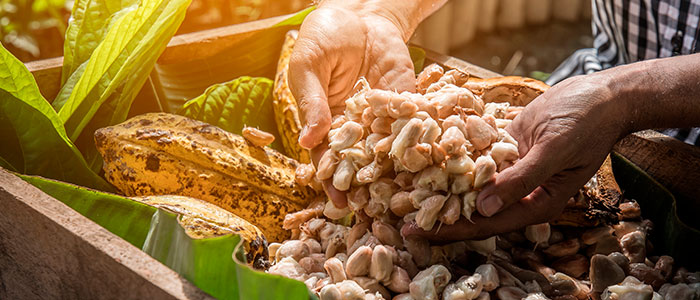 Colombia has potential to increase its cocoa production
Colombia has 12.8 million hectares that are highly or moderately suitable for sustainable commercial production of cocoa crops, as well as excellent genetic diversity[1].
World-renowned Colombian cocoa
According to the International Cocoa Organization, 95% of the cocoa exported by Colombia is Fino de Aroma, a distinction granted to only 5% of the beans produced worldwide, while only 75% of cocoa beans exported by competitors such as Ecuador and Peru belong to this category[2]. Also, its outstanding quality has earned recognition at international specialized events such as the International Cocoa Awards and the Salon du Chocolat in Paris.
Socio-economic impact of Colombia's cocoa sector
Growing and processing cocoa provides development opportunities for 52,000 cocoa-growing families in Colombia. It involves small and medium producers and creates approximately 165,000 direct and indirect jobs in over 400 municipalities and 27 departments in Colombia.
Cocoa production is on the rise and serves to improve growers' quality of life. According to the National Federation of Cocoa Growers (Fedecocoa, as per its Spanish acronym), approximately 14% (25,000 ha) of the 176,000 hectares of cocoa grown in Colombia were formerly illegal crops[3].
The demand for cocoa has increased in Colombia and worldwide.
Colombian cocoa is in high demand, both domestically and internationally. Approximately 90% of the national production is allocated to the growing domestic market. In 2019, the global retail market for chocolate confections reached USD 107.495 billion in sales and is expected to continue growing in the coming years to reach USD130.512 billion by 2024 (4% CAGR) [4].
National government cocoa initiatives and programs
The national government has prioritized the cocoa sector to boost productivity and yields along its value chain. The Colombia Exporta Agro Strategy and the National Strategy for the Cocoa Value Chain are among the national government's programs and initiatives to develop and grow the sector, which is a priority within the Colombia Productiva strategy.
Investment opportunities in the cocoa, derivatives, and confectionery sector in Colombia:
Develop production partnerships with small cocoa growers and jointly develop medium and long-term projects, including the commitment to supply raw material.
Form local strategic partnerships to build cocoa processing plants to produce semi-finished products such as cocoa butter and cocoa liquor.
[1] https://sipra.upra.gov.co/
[2] https://www.icco.org/about-cocoa/fine-or-flavour-cocoa.html
[3] https://www.fedecacao.com.co/portal/index.php/es/
[4] https://www.euromonitor.com/