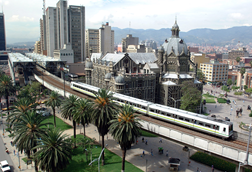 Spain Newspaper El Confidencial Highlighted Medellin as Colombia's Smart City
The article notes that Medellin is one of the few cities that have managed to find a compromise between people and their environment, thanks to its architecture, urban planning, and advanced infrastructure that allows it to develop a new urban model, making it smart and relying on three basic pillars: technology, sustainability, and innovation.
El Confidencial quotes Joseph Stiglitz, recipient of the Nobel Prize in Economy, who was surprised by the achievements from the city's non-segregation plans, as it is betting on social inclusion as a development model. This is reflected in things like the Metrocable, a cable railway integrated with the city's public transport system. This initiative was strengthened with the inclusion of escalators that provide better access to less privileged communities on top of the high hills surrounding the city.
One of the initiatives that the Nobel winner found most admirable were the libraries inside the subway stations. These are interconnected bookstores that share resources, work, knowledge, and experiences in order to improve the cultural and educational services available for public transportation passengers. They include works from all literary genres. They also provide free Internet access. It is this kind of project that made possible for Medellin to receive a recent award as an Innovative City by the Wall Street Journal, Citibank, and the Urban Land Institute.
Medellin will be one of the nearly 300 cities to attend the fourth Smart City Expo World Congress to be held next November in Fira de Barcelona Gran Via. The event will be held on November 18th-20th, 2014 in Barcelona, where Antioquia's capital city was chosen as one of the smartest cities in the world. This event will promote cities classified as smart cities due to their multiple interconnected process system.
Cosmetics and personal care
Information technology and creative industries