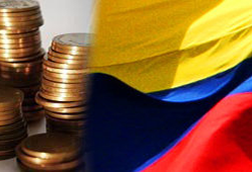 Colombian Economy Grew by 4.3% in Q2 2014
According to a report by Colombia's national statistics agency (DANE), the country's GDP grew by 4.3% between April and June of 2014 compared to the same period in 2013. Overall, Colombia's economy grew 5.4% in the first half of this year.
The construction sector was the main driver of growth for the Colombian economy, with an expansion of 10.2% in Q2. This was followed by financial institutions with 6.1%, community services with 5.8%, and trade with 4.8%.
Utilities (electric power, water, and gas) and the economic category that groups transportation, storage, and communications showed a moderate growth of 2.8% by the end of the second quarter.
It is worth nothing that, during January-June of 2014, all areas of economy improved compared to the same period of the previous year, mainly: Construction (14.2%); Personal, Social, and Community services (6.1%); Financial institutions, Insurance companies, Real-estate, and Company Service Activities (6.1%); and Trade, Restaurants, and Hotels (5.2 %)," DANE officers said.
The official agency believes that, as ofmid-2014, Colombia's economy is on the right track and better off than in 2013, when growth was 3.7% by mid-year.
Cosmetics and personal care
Information technology and creative industries