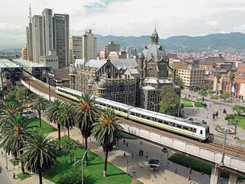 Colombian cities move up in the investment attraction ranking
According to the 2013 Urban Investment Attraction Index, (Indice de Atractividad de Inversiones Urbanas, INAI), carried out by the Del Rosario University's Competitive Strategy Planning Center (Centro de Pensamiento en Estrategias Competitivas) and Chilean firm Inteligencia de Negocios, the Colombian cities climbed up the Latin American Investment Attraction Ranking due to the trade agreement soon to come into force with the 27 countries belonging to the European Union.
Bogota stayed in the 5th position for the second year in a row, supported by the national investment attraction platform, now considered as mild (formerly neutral in 2012). Bogota offers a high quality university education and has recently improved its safety indexes, which have positively affected the perception towards the city. Also, Bogota's international renown is outstanding among the listed cities.
The most relevant fact in the new report is the significant progress by Medellin and Cali in the ranking, establishing themselves among the 20 Latin American most investment-friendly cities.
The capital of Antioquia climbed 12 positions up to the 13th spot thanks to a successful international positioning effort during the most recent period, together with the clear improvements in urban amenities, as well as its higher education alternatives.
Cali moved up 10 positions and became part of the top 20 destinations in the ranking, mainly thanks to the improvement of the national investment platform and the city's recent progress regarding human capital and urban amenities indexes.
Barranquilla and Bucaramanga made it to the list of the top 30 cities in the ranking, among 48 cities in total.
As for Barranquilla, the improvement in its quality of life is worthy of note, as it starts to receive international attention, while Bucaramanga positioned itself as the city with best purchasing power among the Colombian cities listed in the ranking.
Cosmetics and personal care
Information technology and creative industries