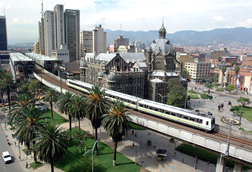 Colombia Stands Out: P.I.B Brazil Magazine
In a report published by the economic journal, Colombia is highlighted as a country that is attractive to Brazilian entrepreneurs mainly because of its healthy economy, new projects, innovation and support policies that foster foreign investment.
PIB Magazine shows how large Brazilian companies join investors worldwide, with major projects in the country in terms of infrastructure, such as Odebrecht with the construction of megaprojects such as the Ruta del Sol (Route of the Sun), one of the main highways connecting the Atlantic Coast to Colombia's heartland.
Companies such as Petrobras, Votorantim, Gerdau, Natura, Artecola Marcopolo, are just a few of the more than 50 companies that provide services and develop products in Colombia which are then exported to other markets in America, Europe and Asia.
The article highlights how Colombia has earned a positive reputation worldwide, with its sound economic policy based on reforms in all areas developing the country in one of the strongest economies in Latin America and being able to maintain growth rates at nearly 5% annually since 2010 and 6.7% in the first quarter of 2014.
The journal also stated that the country has strong macroeconomic indicators and major infrastructure projects underway. It also offers investors the benefits of 14 free trade agreements that guarantee access to a market of more than 1.500 billion people.
Read the full article here:
http://www.revistapib.com.br/pdf/PIB-ed27.pdf (Portuguese version)
http://www.revistapib.com.br/pdf/PIB-ed27-english.pdf (English Version)
Cosmetics and personal care
Information technology and creative industries