Real estate
Real estate in Colombia is comprised of residential sectors with social interest housing (VIS, as per its Spanish acronym) and non-VIS, student residence, and senior living segments; the commercial sector comprised of the office, retail, and hotel and tourism segments; and the industrial sector comprised of business, industrial, and logistics parks.
Why invest in the real estate sector?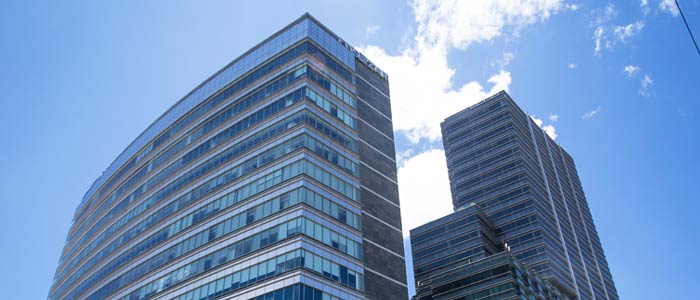 Importance of Colombia's real estate sector:
Colombia is the third top destination for real estate investment projects. Between 2010 and 2019, the country reported 61 investment projects in the sector, comprising 21% of the investment projects attracted in Latin America and the Caribbean. (Source: FDI.)
Additionally, Colombia is attracting large investors from markets such as the United States, Chile, and Switzerland. (Source: FDI.)
Attractive local market with potential for the developing the real estate sector:
Colombia is Latin America's third most populated country and fourth largest economy in terms of GDP, and its economic performance has resulted in a middle class with growing purchasing power. This makes Colombia an attractive destination for the development of residential and commercial projects. (Source: IMF.)
The country has the third largest construction industry in Latin America; an industry that supports the development of assets for the real estate sector. (Source: Fitch Connect.)
On average, Colombia builds 17.8 million m2 in new areas every year, which can be used in the construction of assets for real estate activities. In 2019, the country licensed 23.1 million m2 for construction, of which 80.8% was for housing, 9.7% for retail, 3.6% for offices, and 27.2% for other types of construction. (Source: National Department of Statistics, DANE, as per its Spanish acronym.)
Colombia is showing a downward trend in its interest rates for housing construction and acquisition, which promotes the development of residential projects. (Source: Central Bank of Colombia.)
Currently, there is a high demand for premium office space (class A+, A) in the big cities, which encourages project development. (Source: Colliers.)
Important strategic location for project development:
Colombia has become an important tourist destination in Latin America, enabling the development of the hospitality, retail, and entertainment sectors.
As well as being a tourist destination, it is also promoted as a retirement destination. According to the International Living 2020 Retirement Index, Colombia is the fifth best place to retire. (Source: International Living 2020 Retirement Index.)
Investment opportunities in Colombia's real estate sector:
Shopping malls

Shopping mall development is an area with great potential. It is Latin America's most attractive country for investment in the retail sector and tenth in the world, according to the Global Retail Development Index 2019. (Source: Global Retail Development Index 2019.)
Additionally, growing private consumption, middle class, and urban population have made it attractive for investment projects. (Source: DANE.)

Senior living

Colombia presents opportunities for project development focused on secondary residences, housing, and multi-family housing for senior citizens due to an aging population and a low cost of living. (Source: United Nations Population Division.)

Student residences

Colombia's six main cities produce 76.3% of the country's graduates, meaning that students are migrating to large cities. This has increased the construction demand for this kind of project in these cities. (Source: Labor Observatory.)

Multi-family

Colombia has development opportunities for social interest housing (VIS, as per its Spanish acronym) due to its government's housing projects and to possible price adjustments.

Mixed-use

There is an increase in mixed-use projects in Colombia, where offices, retail, and residential areas are developed in the same space, which attracts the benefits of these sectors in one place.
Investment sectors
Agricultural products & Food production

Energy

Healthcare services and life sciences

Hospitality and tourism infrastructure

Information technology and creative industries

Infrastructure

Manufacturing industries

Private equity and venture capital

Real Estate