Hotel and tourism infrastructure
The hotel and tourism infrastructure sector is vital for the country, as Colombia is considered a one-of-a-kind destination thanks to its mega diversity, variety of climates, cultural wealth, the warmth of its people, and its tourist attractions; this allows foreign visitors to live unparalleled experiences throughout all regions in the country.
Why invest in the hotel and tourism infrastructure sector in Colombia?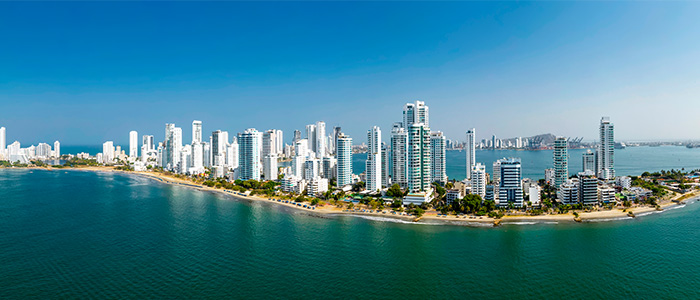 Colombia is a world-class tourist destination
The USTOA, the largest tour operators association in the United States, chose Colombia as the number 1 country from the list of recommended tourist destinations in 2020.
In the 2019 World Travel Awards, Colombia was recognized as a leading destination in South America.
Influential media such as The New York Times, Condé Nast Traveler, and Lonely Planet, among others, have included or recommended Colombia as a must-visit destination.
Various countries like France, Italy, Germany, and the United Kingdom have loosened travel warnings to Colombia.
The World Economic Forum's Travel and Tourism Competitiveness report ranked Colombia 55th; it climbed seven positions among 140 countries.
Colombia demonstrates its potential to become a leading destination in nature and adventure tourism, as it is the second most biodiverse country in the world and the number one in terms of most bird species. The country won first place in May 2020 in the Global Big Day competition for the fourth year in a row.
The International Congress and Convention Association (ICCA) ranked Colombia 29th in the world, and third in South America, in its global ranking of countries hosting the largest number of world-class events.
Tourism growth in Colombia is twice that of the global average
Average annual growth in the arrival of non-resident visitors to the country was 9% between 2012 and 2019, while the rest of the world saw growth of 5.3% and the Americas 4.4%

[1]

.
The number of non-resident visitors in 2019 was 4,525,892, increasing hotel infrastructure by 2.9% compared to 2018. In addition, hotel occupancy rates hit a record high of 57.8%, increasing the hotel sector's income by 10.6%.
Tourism is the second biggest source of foreign currency in Colombia, after the mining-energy sector, surpassing traditional products such as coffee, flowers, and bananas. Foreign currency entering the country for this activity hit record numbers in 2019, amounting to US $6.751 billion, with a 2% growth compared to 2018.
Colombia, a country connected to the world
Twenty-seven (27) countries are connected Colombia through more than 1,000 direct weekly flights offering 194,000 available seats every week, operated by 26 airlines. The country has 13 international airports and it is less than six hours away from the main cities in the Americas.
Seventeen (17) new air routes began operations in 2019 between Colombia and Lima, Curaçao, Santo Domingo, Madrid, Mexico City, and Cancun. In January and February 2020 alone, 11 new international routes to Colombia had been announced, showing the world's growing interest in establishing connections with the country.
Colombia offers incentives for investing in hotel and tourism infrastructure
Between 2018 and 2019, around 62 hotels opened in different cities, adding approximately 6,400 rooms

[2]

. More than 43 hotels are expected to open, adding 6,200 rooms in the next three years.
Leading international hotel chains have arrived and invested in Colombia . These include Accor, Four Seasons, Hyatt, IHG, Marriott, Meliá, NH Hotels, Wyndham, and BlueBay Hotels, among others.
The new economic growth law of 2019 offers a preferential income tax rate for hotels, theme parks, agritourism, ecotourism, and new docks.
Income tax in municipalities with less than 200 thousand inhabitants will be 9% for 20 years and this incentive will be in effect until 2029.
For cities with more than 200 thousand inhabitants, this 9% rate incentive will apply for ten years and will be in effect until 2023.
Investment opportunities in the hotel and tourism infrastructure sector
Ecotourism: Opportunities to invest in hotel infrastructure through hotels in rural areas that capitalize on Colombia's natural biodiversity.

Glamping: The experience of outdoor camping without sacrificing the comfort and facilities provided by traditional hotel accommodation.
Eco luxury: Construction of ecolodge hotels.

Urban hotels: Colombia has 14 cities with more than 500,000 inhabitants and 31 with more than 200,000 inhabitants. There are opportunities for new hotels in categories ranging from budget to luxury, including brands focused on youth, corporate, leisure, and senior living markets.
Entertainment: Opportunities for building theme parks, show venues, and event centers.
Sun and beach: Development of all-inclusive resorts and luxury hotels.
[1] Source: Colombia figure: Colombia Migration, MinCit, port authorities, Procolombia calculations. World and Americas figure: OMT.
[2] Consolidated hotel 2019 prepared by ProColombia.
Investment sectors
Agricultural products & Food production

Energy

Healthcare services and life sciences

Hospitality and tourism infrastructure

Information technology and creative industries

Infrastructure

Manufacturing industries

Private equity and venture capital

Real Estate